History of the Triumph Bonneville
1883-1886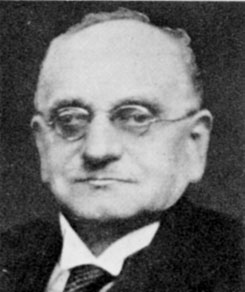 A young German named Siegfried Bettmann leaves Nuremberg, and travels to Coventry, England. He initially works in a sewing machine company then establishes his own import/export company importing German sewing machines, and selling bicycles made in Birmingham. He revises the name of his business to "The Triumph Cycle Company."
1887-1889
The name of the firm is changed to Triumph Cycle Co. Ltd. and shares were underwritten by the Dunlop Tyre Company. 2 German engineers join Bettmann and convince him that Triumph should make their own products, rather than sell others products. They purchase a small factory in Coventry and begin to manufacture their own bicycles.
1895
One of the Triumph engineers named Schulte imports a Hildebrand & Wolfmuller motorcycle for testing and rides it in the Coventry cycle stadium.
1902
The first Triumph motorcycle is manufactured as designed by Schulte, on a bicycle frame using a single 2.25 BHP Belgian Minerva engine, automatic inlet valve and battery/coil ignition. He later experimented with other engines. 1902 is considered the first year of Triumph Motorcycle manufacturing.
1903-1905
Continuous improvements and modifications are made to the Triumph product line. Engines used included: J.A. Prestwich (JAP), and the Belgian Fafnir.
1905
The first all-British Triumph motorcycle is manufactured as designed by Johann Schulte and Charles Hathaway. Specifications included: 3 BHP, 300cc, side-valve, up to 40-50 MPH. They were able to produce 5 per week and they sold for 45 pounds.
1906-1914
Under chief designer Johann Schulte, continuous improvements are made. Frank Hulbert lands the first competition success doing the Dashwood hill climb on a Triumph 453cc prototype. Jack Marshall and Freddie Hulbert win 2nd and 3rd in the first Isle of Man motorcycle TT race. By 1914 the company is producing 4,000 single cylinder motorcycles annually, and Charles Hathaway is the chief designer. The 550c Type A Roadster is the state of the art model using a Bosch high-tension magneto and putting out 4 BHP.
1915-1918
The company shifts focus to the war effort. A Type H roadster with a chain drive, 550cc side-valve, four stroke with a 3-speed gearbox and belt transmission is considered to be the first "modern" motorcycle. More than 30,000 of these were manufactured and used by the Allied Forces in WWI.
1919-1928
Schulte leaves and Col. Claude Holbrook joins as General Manager. Continual improvements are made including: spring drive, rear spring shocks, internally expanding drum brakes, 500cc OHV engine, and the first OHV twin engine. The 50-mile standing start and the one-mile British records are set by rider Frank Halford. Triumph develops its own spring front fork.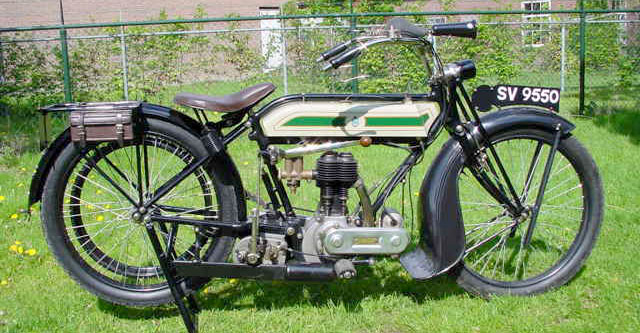 Competitor George Bell closes his shop and joins Triumph where production reaches 25K-30K per year, from a 500K SF facility employing 3,000 people. A fashionable saddle tank is adopted, and color schemes changed. The product line is cut to 4 models.
1929-1933
Triumphs first all unit construction motorcycle is developed and called the Model X (Junior) at 175cc. Model X is reduced to 150cc and a new "Silent Scout" model is added, designed by Val Page. Page follows this with a range of new designs at the 250, 350 and 500cc sizes during these years.
1934
The company name is changed to Triumph Co. Ltd.
1936
Triumph splits its motorcycle and automobile manufacturing (started in 1931) into 2 separate and independent companies.
1937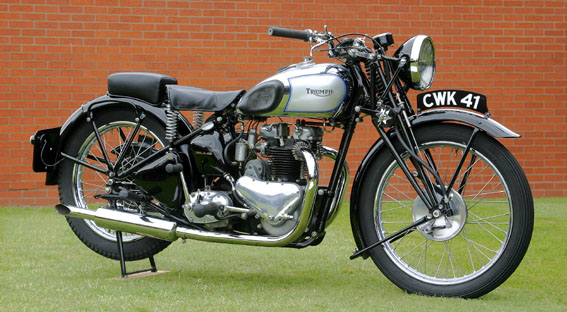 Edward Turner develops the 500cc Speed Twin taking the moto world of that day by storm and becoming the definitive Brit Bike. This 27 BHP motorcycle was capable of 90 MPH (just shy of doing the ton) and weighed 361 lbs. The London Police choose the Speed Twin and purchase thousands for their use.
1938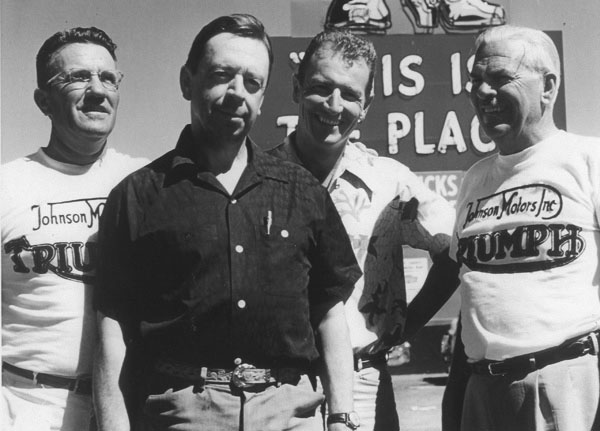 Bill Johnson and Wilbur Cedar establish a small motorcycle shop in Pasadena, CA selling Triumphs, Ariels, BSAs and Indians, hosting a motorcycle show to introduce these products and brands to the American public.
1939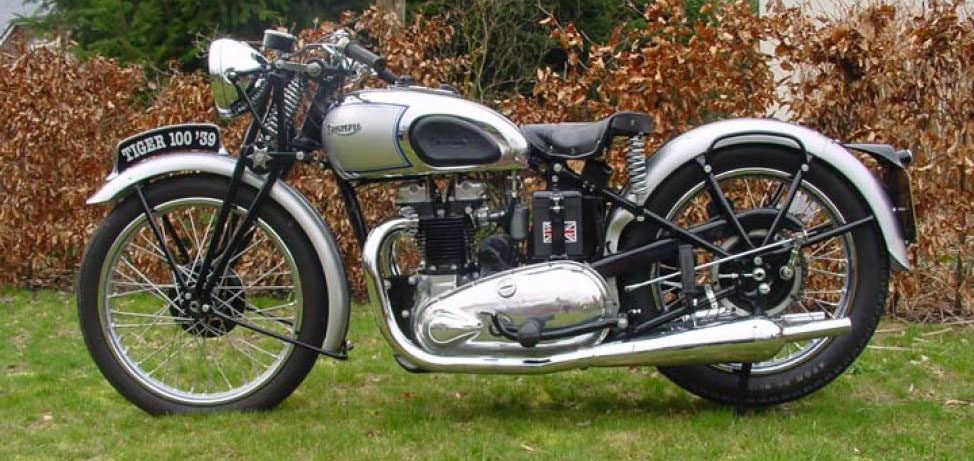 The most popular motorcycle in the US is the Triumph T-100 which could reach a top speed of 95-100 MPH (doing the ton!). New speed records are set by Freddie Clarke on a Tiger 80 and a T-100. WWII breaks out and 1,400 Triumphs are requisitioned for war use.
1940
Triumph again begins producing motorcycles for the civilian production along with the war effort. The French government contracts to purchase Triumphs for their war effort.
1940-1943
A new Triumph factory in Meriden is built allowing for expanded military production.
1944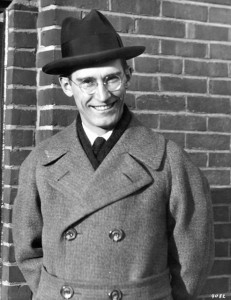 Harley Davidson's Asian sales agent, Alfred "Rich" Child, tries to convince Triumph to become their exclusive importer to the US. Triumph decides to stick with Johnson as their official US distributor.
1945
Triumph builds 50,000 motorcycles during the war years. Many of the used war effort motorcycles were bought back, refurbished and painted for civilian use. Some are fitted with telescopic forks.
Bill Johnson creates plans for a US nationwide dealer network and accepts franchise applications. JoMo (Johnson Motors) moves to a larger facility expanding their service area. They drop the Indian franchise but pick up the Mustang, Lucas, Amal, John Bull and Dunlop brands.
1946
Meriden resumes production of civilian motorcycles as an all-twin cylinder product range is announced.
1948
Triumph's first trail bike, the Trophy 500cc TR5 is introduced. The engine was originally developed for the RAF in WW2 with aluminum heads and barrels. Triumph is building 12,000 motorcycles a year, exporting 60% of them.
1949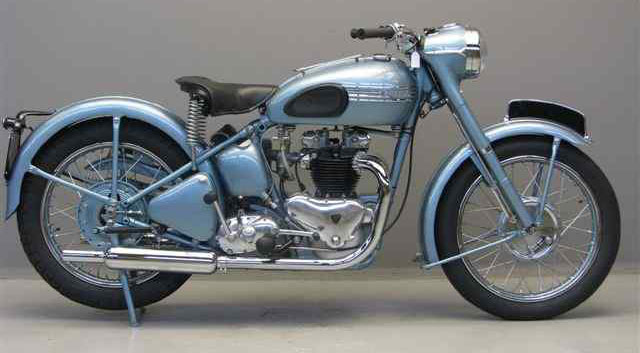 Turner and Jack Wickes introduce the 650cc Thunderbird 6T capable of 100MPH, primarily for the US market. The bike becomes a favorite of police forces around the world. The Triumph Owners Motorcycle Club is founded.
1950
With the world's first "super-bike" demand high, improvements are made to the Thunderbird carbs. Turner establishes Triumph Corp. in Maryland as the wholly owned distribution company to serve eastern US markets. Dennis McCormack is the first President. After 1950, more Triumphs would be sold in the USA than in any other country, including the UK.
1951
Sangster sells Triumph to BSA, the same company he sold Ariel to in 1939, and becomes a member of the board. Harley Davidson complains to the US tariff commission that Triumph is dumping its machines on the US market at artificially low prices. They demand a 40% duty on all imported motorcycles.
1952
The US tariff commission rejects HD's request which adds to Triumph's publicity. HD is charged with charged with restrictive trade practices instead. The demand for Manx Norton engines to power Formula Three cars left many Manx Featherbed frames available. Motorcycle designers started putting Triumph engines in these frames creating the "Triton."
1953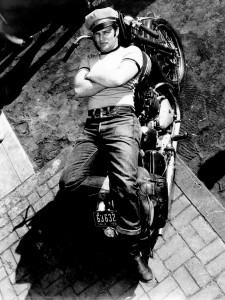 The movie, "The Wild One" stars Marlon Brando riding his personal 1952 Triumph Thunderbird.
1954
The Tiger 110, nicknamed the "Tiger-Bird" is announced with high compression pistons and 42 BHP. Rear swing arm suspension is adopted on some models.
1955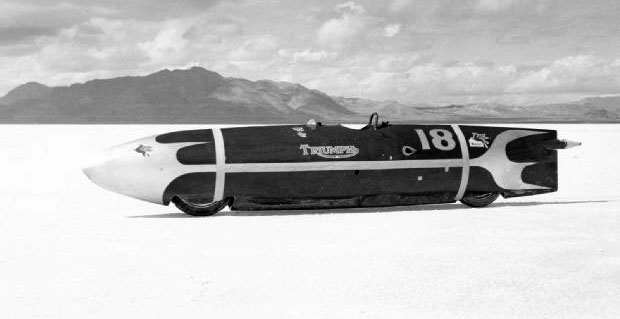 On the Bonneville Salt Flats, Johnny Allen establishes a record 193 MPH in a 650cc Triumph powered streamliner. The TR6 Trophy is produced as the first true "American" Triumph model with a top speed of 105 MPH.
1958-1959
The T120 Bonneville is unveiled at the Earls Court Bike Show. Its name commemorates Johnny Allen's land-speed record runs at Bonneville Salt Flats in 1956. It went on sale in 1959.
1961
"The Great Escape" starring Steve McQueen features Bud Elkins, the stuntman who successfully jumps the fence at the end of the movie on a TR6 on the first take.
1962
Doug Hele leaves Norton and joins Triumph, redesigning their frames for better stability and stiffness.
1964
Success on the race track leads to the production of a special edition Bonneville Thruxton model, which in turn paved the way for production of home-grown cafe racers.
1969
The Bonneville gets its first major makeover, gaining improved carburation and smoother power delivery, along with a new tank badge, altered seat units and silver color scheme.
1973-1975
Capacity increases from 650cc to 750cc. A strike at the Meriden, UK factory results in no bikes being produced, and marks the beginning of the end for the original Bonneville.
1983
The last official Triumph Bonneville rolls off the production line at Meriden. Limited numbers of the bike continue to be produced by LF Harris of Newton Abbot between 1985-88.
2000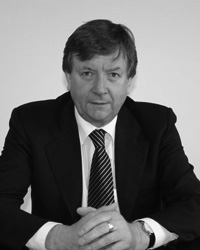 A reborn and modern Triumph company (UK) under the leadership of John Bloor builds on past success in the 1990's by launching a new Bonneville out of their new Hinckley plant. The model sports a 790cc parallel twin power plant, and blends retro-styling with modern designed and manufactured components.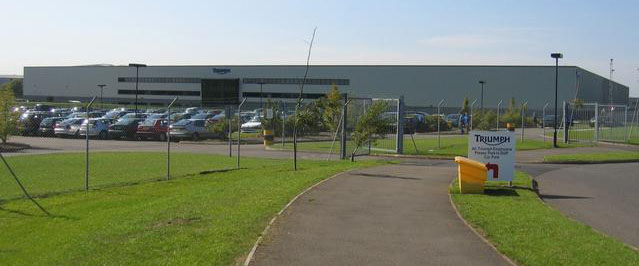 2002-2008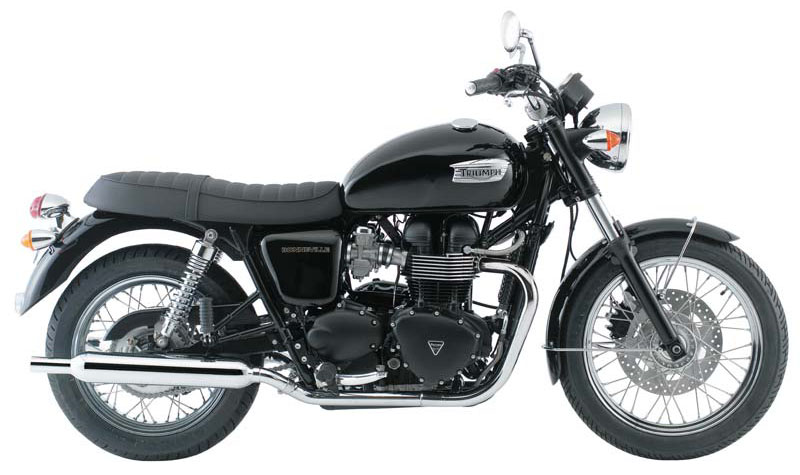 Subtle changes are introduced to keep the model fresh. Engine capacity increases to 865cc, gas tank capacity increased and and spin-off models are introduced, including the T100, Scrambler and a new Thruxton 900.
2009-2015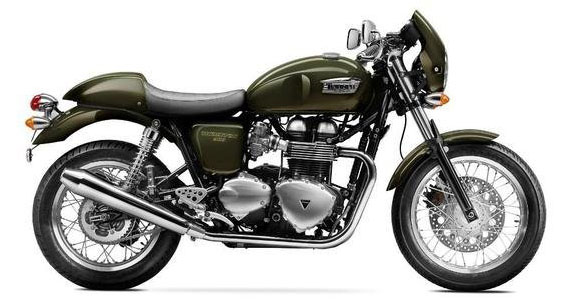 Additional changes are made to the models. Carburation is replaced with EFI in 2009. A slightly lower, alloy wheel version called the SE is introduced as the entry level Bonneville.
---
Sources